Welcome to Mr Love: Queen's Choice Wiki!
"Mr Love: Queen's Choice" is a dating sim and visual novel app, developed by Paper Games and published by ELEX. It mixes various traditional elements of this game genre such as card gachas, a message and call system, and story segments. You assume the role of the heroine, trying to develop your own business, while getting tangled in a mess of secrets along the way.

Who will be your soul mate? Mr Love: Queen's Choice is a romance simulation game that gives you the opportunity to text, chat and even call the main characters while developing your own career as a media producer. In a world filled with superpowers, fantasy, and surprise, you will experience a girl's whole life and get deeply involved with four male characters, feeling their romance, love, mystery and conflict in a deep story spanning dozens of episodes.

Download The Game

Announcements
Anime & Newest Karmas
Episode 5 Released
Watch Now on Crunchyroll
Also broadcasted on TOKYO MX, Sun TV, BS Nippon Television, and AT-X every Wednesday.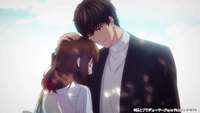 Notice
This Wiki was purely created to provide information to overseas fans, and to help non-Chinese speakers with the game. As such, it is not an official Wiki. It is still under construction and is very incomplete. Please also note that it contains heavy spoilers regarding the game plot and the characters.
Resources
If you would like to help contribute to the wiki, please visit the Editor's Guide to gain a basic understanding of the wiki's features and guiding yourself when editing. If you have any questions, please ask any of the active moderators or editors.